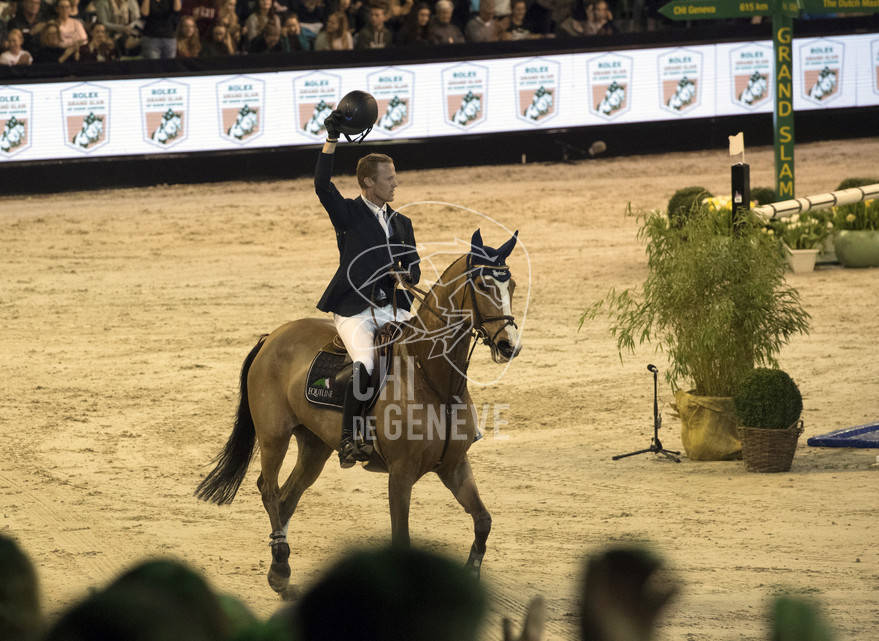 Niels Bruynseels and Gancia de Muze after their winning in the Rolex Grand Prix at The Dutch Masters
Do you have any superstitions ?
You could say I do have one superstition…. When I arrive at the hotel, I always layout my riding clothes in the same order, separating them out into 'Day one' 'Day two' and so on. It is a routine that I always go through. Aside from that I don't have any other superstitions, just hope that my training pays off and I can perform to the best of my ability.
Can you talk us through your daily routine when training ?
The grooms start at 6.30am, they do the morning feeds and prepare the horses. I arrive at 7.30am to begin riding the horses. Each morning, before I arrive at the stables, I make a plan for the whole day which outlines the team's responsibilities. We have a total of 25 horses, so it is important that I stay really organized to make sure everything at the yard runs smoothly. I will then spend the day riding seven-to-eight horses, so I am very busy, but I love it! I concentrate fully on the training of the horses, so the days when I am not competing are completely focused on that.
How did it feel to win a Major ? What was going through your mind ?
Winning a Grand Prix is always nice, but to win a Rolex Major is very unique and so special, the feeling was unreal. The media hype is on a whole different level, and the attention I have received since then is greater than ever. Everybody is focused on the Rolex Grand Slam as it is one of the biggest parts of our sport, so everyone is talking about it which adds to the excitement. It was a magical moment and one of the best in my career so far, I hope there will be more occasions like this!
If you weren't a rider what would you be ?
I have always loved horses, they are my absolute world. So, if I wasn't a rider I would have to be something that is still horse orientated, therefore I think I would be a horse dealer.
Do you have any hobbies ?
No hobbies, only horses! If I am at a show and have some free time I enjoy siteseeing and trying the food of the local area, but other than that it's all about the horses.
What have you been up to since winning the Rolex Grand Prix at The Dutch Masters ?
Straight after winning the Rolex Grand Prix I celebrated with my team, we were all so excited! It was a late finish that evening, but because I only live an hour away from the show we went back to my house and continued the celebrations there.
We went to Paris a week later and came second in the big competition there, but since then my horse has had a bit of a rest. This week she will start competing again as we start our preparations for CHIO Aachen and the next stage of the Rolex Grand Slam.
Can you tell us a bit about your horse ?
Gancia de Muze is a very special horse, she is a 12-year-old Belgian-bred mare and has a very unique character! She is very stubborn sometimes, and I have to do everything for her otherwise she gets in a bad mood! She receives a lot of special treatment, she has lots of time in the field and because she doesn't like flat work, so she is lunged and jumped more frequently. She is very set in her ways! But she really loves her job and enjoys herself so much at the events. Every time we compete together, she really fights for me, she has a competitive nature and wants to win!"
Are you planning on attending CHIO Aachen ? If so, how are you preparing for the next part of your Rolex Grand Slam of Show Jumping journey ?
Of course, I plan to ride in the Rolex Grand Prix at Aachen, it is one of my goals to win there. This week I plan go to Madrid and will see how my horse is performing on grass. I have scheduled some competitions on grass, specifically to prepare for the Rolex Grand Prix, with the hope to continue my Rolex Grand Slam journey.
Next show, the CHIO Aachen from the 13th to 22th of July 2018
What is your advice for young riders ?
My advice to young riders would be; you can always keep learning from other people. Make sure when you are at events, you are watching the other competitors and seeing how they ride. If you want to improve and progress you shouldn't rush or be frustrated when you don't reach the top straight away, it is a step-by-step process and you can never stop learning.
Do you feel that there is added pressure as the current Rolex Grand Slam of Show Jumping live contender ?
I don't feel too stressed right now, but there is certainly a different sort of pressure that comes with being the Rolex Grand Slam of Show Jumping live contender. You are aware of more people talking about it and I have had a lot of people ask me if I am going for the Rolex Grand Slam. It is a different feeling right now, but I am sure at Aachen I will feel the extra pressure as I don't want to give up my position of live contender!
What do you want to achieve in your carrer, wha is your dream ?
Aside from winning the Rolex Grand Slam of Show Jumping, I want an Olympic gold medal, whether it is with the team or as an individual, that is a big goal for me. I also hope to compete at the World Equestrian Games in Tryon this September and a medal there would be nice too!