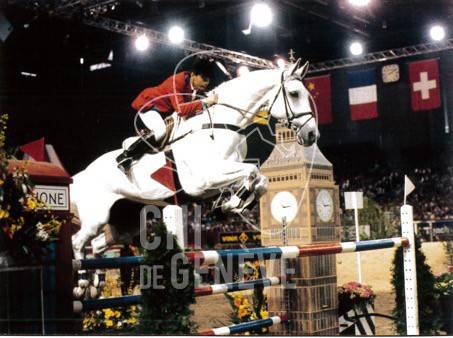 Willi Melliger and Calvaro V at the 1996 World Cup Final in Geneva. © "CHI Geneva 1926 to present day"
Willi Melliger, a real legend of the equestrian world, died this Tuesday, 16 January 2018 aged 64.
Willi was always a leading figure at horse shows and became the Swiss rider to have won the most titles of all time. This was largely thanks to his epic partnership with the mythical Calvaro V, winning individual Olympic silver in the 1996 Atlanta games and team silver in Sydney in 2000. He and his big grey horse also took 2nd in the 1996 World Cup Final in Geneva (photo) after a jump-off against Hugo Simon and E.T.
Willi won 13 European medals in all, four of them gold, including individual and team golds in 1993 with Quinta C, and a bronze individual medal in Saint-Gall in 1995. He also came 4th in the 1998 World Equestrian Games in Rome, where Calvaro was the best horse in the "round-robin" final. These outstanding performances and his victories in the most prestigious Grand Prix competitions led him to become the first Swiss N°1 world rider in 1999.
Willi retired from competition in 2010 and thereafter concentrated on passing on his knowledge to the younger generation as a trainer of juniors and young riders. He was highly successful at that too, including being rewarded with European gold medals.
All at CHI Geneva extend their sincere condolences and thoughts to Willi Melliger's family and friends, and particularly to his children.